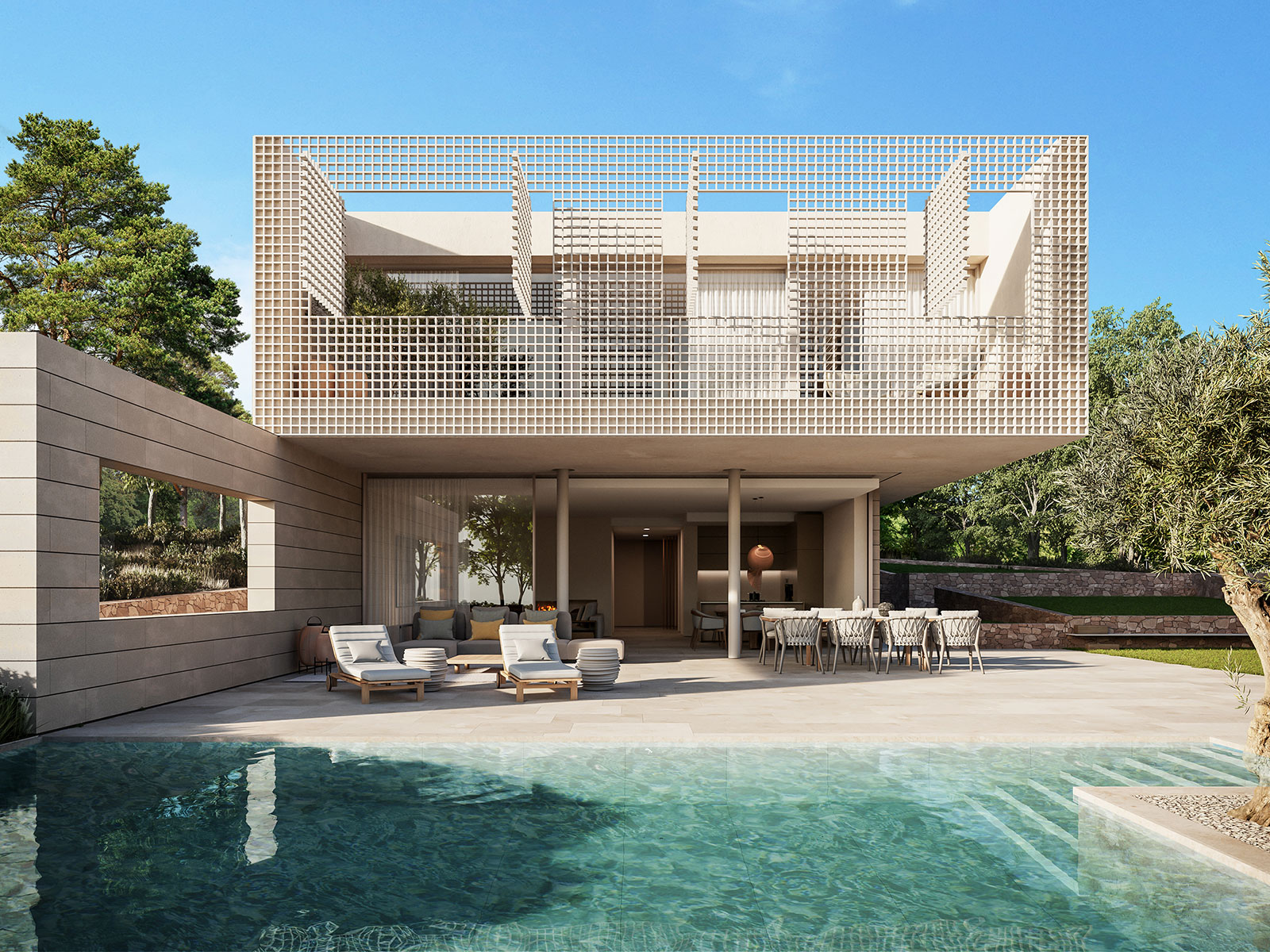 An exclusive residential complex of luxury properties surrounded by nature on Mallorca's coast.
Tucked into the heart of Mallorca's southwestern tip and surrounded by exuberant Mediterranean flora, these singular properties blend into the surrounding hillside under the shade of pine trees.
All the residences have their own entrances but are also joined together by a private path, which will also, leaving the property, take them down to nearby Cala Vinyes bay, one of Mallorca's most beautiful, turquoise beaches.
It might be just 15 minutes from Palma, but you feel a million miles away.
Close to everything you need, not to mention whatever you desire.
Picking up friends & family who will undoubtedly want to visit is easy, with the airport only 25 minutes away. The many nearby international schools and sports & leisure facilities within the immediate vicinity will simplify family logistics. Golfers will rejoice to have the Poniente Golf Club, among others, just a short distance away.
Where leisure and life blend into one
And the ubiquitous Mediterranean sea is always at your feet in the form of innumerable small bays and inlets, accessible via the area's many walking trails that take you through pine forests down to the beaches.
A community feel, while respecting the privacy of each resident
This singular group of 11 homes – all with landscaped gardens and a swimming pool – all share certain design elements; the simple, clean lines of the buildings, the contemporary interpretation of traditional latticework, and the artful fusion of indoor and outdoor areas.
Your own personal space amidst verdant greenery
Still, each home creates intimate, personal spaces to disconnect and enjoy your Mediterranean lifestyle, your way. Special care has been taken to align the buildings for maximum privacy but also connect residents, via the communal pathway and  the private green area where children can play, and neighbours chat.
Your Mediterranean yet contemporary home
Special attention has been paid to the use of locally sourced and sustainable materials. Furthermore, the metal latticework covering each residence's personal quarters is not only a stunning visual enhancement but – loosely based on traditional Mallorcan shutter design – allows for the free movement of air to keep the buildings cool while also filtering out direct sunlight.
| | Bedrooms | Bathrooms | Plot | Total built surface* | Terraces |
| --- | --- | --- | --- | --- | --- |
| Villa 1 | 4 | 4+2 | 991 m2 | 602 m2 | 147 m2 |
| Villa 2 | 3 | 3+1 | 868 m2 | 448 m2 | 103 m2 |
| Villa 3 | 4 | 4+2 | 1099 m2 | 753 m2 | 106 m2 |
| Villa 4 | 3 | 3+1 | 834 m2 | 455 m2 | 82 m2 |
| Villa 5 | 4 | 4+2 | 1358 m2 | 774 m2 | 165 m2 |
| Villa 6 | 4 | 4+1 | 1001 m2 | 456 m2 | 114 m2 |
*The total built surface includes 100% of covered terraces.
SCT Estudio de arquitectura
SCT Estudio de Arquitectura was founded in 1995 by Ángel Sánchez-Cantalejo and Vicente Tomás. After 25 years we have had the opportunity to work with many different projects, from single family homes, residential buildings, boutique hotels, urban and resort hotels, healthcare buildings, a ferry terminal, an art museum, institutional buildings, … In SCT Estudio de Arquitectura we create architecture with local inspiration to build contemporary global architecture.